welcome
Our Mission
La Halte des Pèlerins is a family-operated vineyard that offers exceptional cultural and sensory experiences in the agrotourism sector.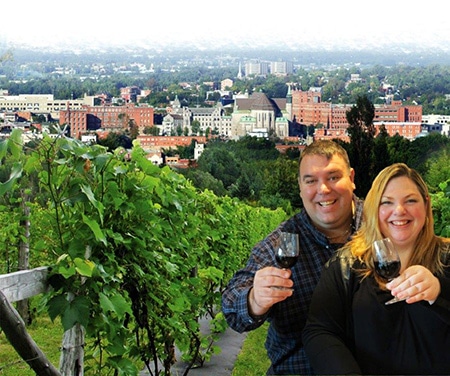 Rustic or urban? A little bit of both! An exquisite sensory experience in a rustic yet accessible setting located just five minutes from downtown Sherbrooke. La Halte des Pèlerins is an exceptional vineyard and a must-visit destination.
Established on a vacant lot in 1998, La Halte des Pèlerins opened its doors in 2008 with 20,000 vines. The company offers visitors a delightful mix of fun and epicurean delight in an enchanting setting. La Halte des Pèlerins is Quebec's only urban vineyard. It's also the first to market its products and services to families. We already have a broad range of wines for sale: Le Pèlerin (white), La Petite Chapelle (rosé), Le Sanctuaire (red), Le Miraculé (apéritif) and Le Confessionnal (Port-style fortified wine). Next year, we will introduce an ice wine called L'Archange. It will be followed by Le Graal (red ice wine), Le Prestige (top-of-the-range red wine) and Le Confessionnal Réserve (another Port-style fortified wine).
Besides producing remarkable wines, La Halte des Pèlerins has offered delightful experiences to visitors since its second year open to the public. True to our mission, we created a treasure hunt (La Chasse au Trésor d'Alfé) and an interactive show (Le Secret du géant), which have enchanted visitors young and old for the past five years. We also doubled the size of our cellar and added an events tent that can seat up to 250 guests. In response to growing visitor numbers and an increasing popularity for receptions, La Halte des Pèlerins renovated its cellar in the winter of 2014 and set up two indoor tasting rooms. These improvements now allow us to hold events all year long.
Ever since we opened, we have introduced innovative undertakings in various areas, which is why we've enjoyed such enviable growth. La Halte des Pèlerins is one of the first vineyards in Quebec to obtain a Protected Geographical Indication. Our wines have also earned provincial certification, including special accreditation for sustainable development ("On s'engage en développement durable"). La Halte des Pèlerins has sought to build on its success and make its products more accessible. Since 2012, our wines have been sold across the entire SAQ (provincial liquor store) network and in many shops and supermarkets.
Whatever the season or occasion, a visit to La Halte des Pèlerins is an opportunity to discover the world of winemaking while learning about the vineyard's history. Our team of wine enthusiasts is committed to providing guests with a flavourful, educational and enjoyable experience.

Co-owners
M.Jacques Chabot
M. Marco Corbin
Manager and cellar master
M. Marco Corbin
List of wines produced and bottled at our estate
Le Blanc (dry white wine), Le Voyageur (semi-sweet white wine), Le Rosé (rosé wine), Le Rouge (red wine), Le Prestige (red wine), Le Miraculé (apéritif), Le Confessionnal (Port-style fortified wine), L'Archange (white ice wine), Le Graal (red ice wine)
Acreage
The vineyard occupies 28% of our 45-acre estate.
Varietals

Reds: Frontenac, Sabrevois, Sainte-Croix, Marquette

Whites: Frontenac Blanc, Frontenac Gris, Cliche, Prairie Star, Delisle, Swenson White

Plantation density
± 4000 vines per hectare
Age
On average, our vines are 9 years old
Soil type
Clay loam
Grape harvests
Our grapes are exclusively harvested by hand.
Annual production
± 30,000 bottles per year
Since establishing La Halte des Pèlerins, we have made a sincere effort to reduce our impact on the environment.
Our lanes, paths and landscaping elements are created using raw materials and vegetation procured on-site, while the wood used in construction comes from trees located on the property. These measures practically eliminate the need for transporting materials for landscaping and construction.
For the last 10 years, the children's play area has offered a second lease on life to equipment from a dismantled playground originally located in Pointe-Merry Park in the town of Magog. Similarly, the brick used on the terrace and the granite in our outdoor amphitheatre were recovered from the demolition of the outpatient clinic of Sherbrooke's Hôtel-Dieu hospital. Additionally, most of the storehouse's furnishings were bought used or recovered as part of personal renovation projects undertaken by the vineyard's owners.
La Halte des Pèlerins continues to limit its waste production through various measures:
Sorting of waste (recycling, compost and unusable waste)
Using washable, non-disposable dishes and cutlery only
Using washable tablecloths, napkins and placemats
Providing reusable washcloths instead of disposable hand towels in the bathrooms
Tests are being conducted in the storehouse on the possibility of using wine lees a second time, which would reduce the waste generated from our winemaking operations.
To manage our water usage and control our carbon footprint, we:
Clean barrels using a steam machine to avoid using chemical products
Use electric golf carts to transport employees around our 45 acres of land, thereby preventing the emission of greenhouse gases
Proudly work with local companies and employ people who live in the community